Foods and feeding are a major concern of any serious aquarist. Perhaps on a daily basis, we throw all sorts of foods into our systems. This may be anything ranging from live phytoplankton to live feeder fish to a pinch of ordinary prepared flake foods, or all the above; it just depends upon the dietary needs of the creatures in our keep.
 Too often do we stock our tanks purely by impulse; that is, we add each piece of livestock to our 'collection' simply because it caught our fancy in a moment. Then, we feed it what we believe it needs to eat to survive, as we should. However, there is a distinct ecological consequence brought about with every morsel we feed, and therefore with every hungry animal we add—dissolved nutrients. Recirculating aquarium systems tend to accumulate nutrients. This presents special challenges for those striving to replicate coral reef environments, which are universally oligotrophic (i.e., nutrient-poor). Among other things, excessively high nutrient levels can lead to rapid algal blooms that are capable of devastating reef aquaria in short time.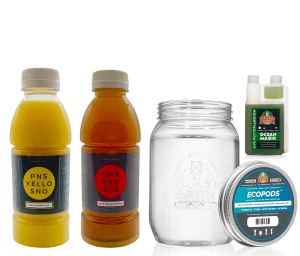 A recipe is more than a list of ingredients; it includes instructions. When the instructions are not precisely followed, things can go wrong. Nature has provided us with the recipe for a reef environment, including a mind-blowing assortment of living ingredients. Decades of advancements in marine aquarium keeping have provided us with the resources and knowledge to follow Her instructions. Yet, time and again, we persist in our perilous shortcuts, generally with the same poor results. Most regrettably, the issues unnecessarily created by imprudent stocking are much more difficult to fix than they are to avoid.  
 As in the rest of this series, we propose that many of the troublesome issues commonly encountered by hobbyists can be avoided by mindfully replicating natural processes of development and structuring. We here kick the series off with a primer on population ecology and trophic structure as it applies to captive systems. Such an approach can be founded upon these fundamental concepts:
 All inhabitants in the system, "ornamental" or not, are pieces in an ecological machine.
The appearance of each type of inhabitant in a naturally developing ecosystem follows an orderly and predictable sequence.

This sequence is regulated principally by progressive gains of available metabolic energy from lower to higher levels in the food chain.

Though they tend to increase over time, food chain lengths are strictly limited due to inefficiencies of energy transfer.

These limitations culminate in a distinct, final biological community.
Making connections
The overall character of a biological community is determined largely by the feeding relationships between its constituents—its trophic structure. Basically, food energy is transferred from primary producers (typically photosynthetic organisms) to primary consumers (i.e., herbivores) to secondary and tertiary consumers (carnivores) and then, finally, to decomposers. Decomposition processes mineralize (that is, break down) organic compounds into inorganic substances (e.g., nutrients) that may again be appropriated by primary producers.
Food pyramids illustrate (albeit in a highly simplified manner) the disproportionate concentrations of biomass between different trophic levels. The base of the pyramid (its largest part) represents plant biomass. Herbivore biomass is represented by the middle part. The tip of the pyramid (its uppermost and smallest part) represents carnivores. When primary producers such as phytoplankton are extremely productive (due to high reproductive rates), they can occur in very small numbers (perhaps due to heavy grazing by herbivores) and yet still support huge populations of herbivores such as copepods (and therefore large populations of predators such as mandarins); cases such as this can be represented by a so-called inverted food pyramid (see illustration). 
This sequential transferal of energy and nutrients follows what many refer to as a food chain. Because so many marine animals are omnivorous, and also because an individual species might occupy different trophic levels at different life stages, food chains are considered to be highly idealized constructs. With the notable exception of parasites or herbivores that graze on giant plants, organisms at each successive link in the chain tend to be larger in size. And, barring some exceptions (e.g., filter feeders), larger predators are physically and behaviorally limited to a larger prey item. Though they are interconnected to form much larger and complex food webs, food chains are themselves typically limited to only four or five links.
Conclusion
Of course, when speaking of captive conditions, the term "natural" is quite relative. Recirculating aquarium systems simply do not, and theoretically cannot, behave exactly as truly natural systems do. For one, in the wild, the above-described sequence can take hundreds or thousands of years to unfold. Fortunately for aquarium hobbyists (to whom months or weeks might feel like centuries), this process can be simulated to some effective degree in fairly short time. This absolutely requires that aquarium flora and fauna are introduced to the tank in the appropriate abundance at the appropriate time. To be sure, if livestock is haphazardly added at the keeper's whim, the process can be delayed or even fail to occur. It is therefore necessary that he or she has a basic understanding of how trophic structuring occur in the natural environment.
In parts 2-4 of this series, we elaborate upon this trophic structuring and make suggestions for a strategic order of operation when stocking a new system. Additional information of this topic, as well as on food chains/webs (with a focus on refugia), can be found in the Jul/Aug 2022 issue of Coral Magazine.