Having always been one of our best-selling items, our Clean Chaeto literally flies off the shelf! We work hard to keep it in stock, and we strive to keep up with the demands of our loyal customers. The folks over at Bulk Reef Supply were kind enough to recently review our Clean Chaeto on BRStv. Here's a link to the video in case you haven't seen it yet!
At AlgaeBarn, we love to team up with organizations that share our same values and goals. This is one of the reasons why we are so proud to have our products featured on BRStv! The customer service that BRS provides is first-class. One of their primary goals is to inspire more people to learn about and take part in the hobby.
When it comes to encouraging more people to take up reef keeping as a hobby, BRS's work has been invaluable. The BRStv archives are a treasure trove of information for reef keepers of all experience levels. No matter how you look at it, BRS has kept reef tanks thriving through the release of their high-quality, educational video series.
BRS has worked tirelessly to promote education in the hobby. Here at AlgaeBarn, we feel that they are also as passionate as we are when it comes to promoting sustainability. So, in this post we are going to talk about one of our most popular and sustainable products, Clean Chaeto. If you've been looking for a natural filtration method to remove waste compounds, then don't skip this article!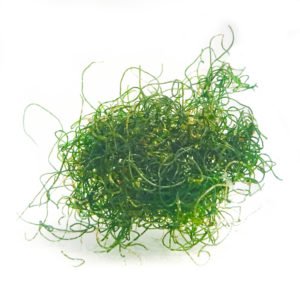 Basic Chaeto Biology
Chaeto is a versatile macro and can be grown in a refugium, a reactor or even in the display tank. Mats can form from the entangled growth of Chaeto strands. These mats, which look like those green scouring pads, tend to be very loosely attached to the substrate. Chaeto clumps or mats can be made to tumble, which more uniformly exposes the mass to light. Alternatively, it could be kept in a reactor where the entire mass receives light from all angles but is kept in a relatively loose state.
Chaeto is also favored as a macro for refugiums due to its extreme ease of cultivation. In fact, the only requirement for growing a dense mat of Chaeto is the use of very intense, full-spectrum lighting. Optimal growth of chaeto, like that of most other green algae, calls for bright light. And we mean bright light! For example, if a light is not powerful enough to grow healthy SPS corals, it probably won't grow Chaeto.
Chaeto does not tend to clump up in a refugium due to the rigidity of its individual filaments. And as it was mentioned in the BRStv video, Chaeto makes a great home for tiny pods! The protected space within the mat provides shelter for pods to hide, feed, and reproduce. As the Chaeto mat expands and matures, pod populations can take root here.
Efficient in both growth and nutrient absorption, Chaeto is a valuable resource for reef keepers. It's easy to grow if the lighting is adequate. In most cases, there is no need to supplement with trace elements or minerals. When the strands clumps together, Chaeto forms mats that efficiently ensnare pods and detritus floating in the water. Once pods have gathered in the Chaeto mat, they waste no time devouring the particulates that have collected.
How Clean Chaeto Works as a Natural Filter
Chaeto is prized for its ability to rapidly sequester nitrate and phosphate. This is because of its potentially explosive rate of growth. To achieve these high growth rates, Chaeto only requires a few simple things. First, you must provide extremely bright lighting. As we said above, if it's not bright enough to grow SPS, it won't be bright enough for Chaeto. Secondly, routinely harvest the chaeto mat.
Only by cutting away and removing small sections of the Chaeto mat, will nutrients be completely removed from the reef tank system. A good rule of thumb would be to harvest a quarter of the total mass once the mat has encroached into the open space of the refugium. Harvesting the Chaeto guarantees that nutrients will be sequestered and removed from the reef tank system consistently.
If the Chaeto is not harvested throughout the year, it could have the opposite of the desired effect. Once the mat is overgrown, it will begin to decay. As the mass is dying, the nutrients that were absorbed by the Chaeto will return to the water column.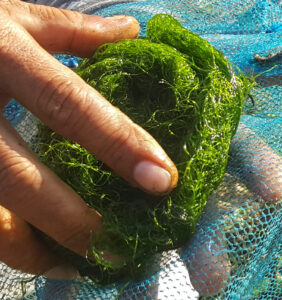 Since Chaeto uses photosynthesis to create energy, it is considered a consumer of carbon dioxide. As a result, pH levels will increase, which encourages the development of stony coral. Because of this, it is recommended that those who use reactor-style algae scrubbers plumb the unit after calcium reactors to capture and take up any excess carbon dioxide that is released.
Keep in mind that if other nutrients are depleted, Chaeto will not function as efficiently. The use of all available phosphate, for instance, could cause it to stop sequestering nitrate. It may stop absorbing nitrate and phosphate if it lacks a necessary trace nutrient, such as iron. Therefore, keeping a regular water change schedule is recommended to replace trace elements. This will also help to remove remaining excess nutrients from the water column.
How Clean Chaeto Works as a Mechanical Filter
Yes, Chaeto works as a mechanical filter media! Chaeto's rigid, fibrous tangles are perfect for trapping detritus. An algae reactor is ideal for using Chaeto as a mechanical filter. This is because the water is directed through the reactor. In a refugium, water flows around the mat. However, even in a refugium, solid wastes will still get picked up in the thick, tangled mat. The result is cleaner, polished water with reduced particulate matter.
How Clean is our Clean Chaeto?
Chaeto itself has picked up a bit of a bad reputation for introducing hitchhikers. This is mainly due to the tightly tangled strands that Chaeto forms as it grows. Other companies will grow their macroalgae in shared systems. This can lead to nuisance algae forming within the mat. It is challenging to control exposure to pests and pathogens when sourcing Chaeto from the LFS or other hobbyists' systems.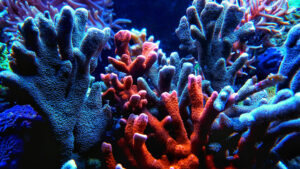 Here at AlgaeBarn, we designed our systems to minimize the risk of unwanted pests. We isolate each of our macroalgae varieties in their own closed system. We also follow very extensive quarantine procedures here. Before we ship Clean Chaeto your door, each order is cleaned and inspected. We go through this process so our customers can rest assured that no pathogens, parasites, or other pests will enter your tank.
We take extensive measures to isolate, and eliminate any parasites, hitchhikers, or pathogens. But just as there is no such thing as a completely reef safe fish, it is nearly impossible to eradicate all microorganisms. This is because, despite our meticulous quarantine measures, it is possible for an errant egg sack to survive but remain undetected. Therefore, we always advise our customers to properly quarantine all new additions before adding them to their reef tank systems.
Conclusion
We'd like to take this opportunity to thank BRS and all our wonderful customers for their support! It means a lot to us as a company that our products are trusted and used by so many hobbyists. AlgaeBarn is proud to have the opportunity to increase awareness of aquaculture and help to build a more sustainable hobby.
We hope that this article has helped to answer any lingering questions about our Clean Chaeto. Please be sure to drop a comment below and tell us about your experience growing Chaeto in the refugium!