We are looking at our oceans and the impact our hobby has made on them. No matter where you are, we are all ultimately sharing a planet that is about 71% water. Wherever we live, we have a responsibility to protect and care for the health of our oceans.
One of our goals is to discuss some of the ways we can all contribute to conservation efforts. AlgaeBarn's central mission has always been to improve our hobby's sustainability and protection of natural resources. This is one of the reasons why we teamed up with like-minded organizations. ORA is one of the leading producers of captive-bred fish in the reef aquarium trade.
ORA has been providing our hobby with a sustainable source of reef fish since 1996. In the article below, we will be looking at their work breeding Pseudochromis. More commonly called Dottybacks, these fish show how aquaculture contributes to the health and recovery of Indo-Pacific coral reefs.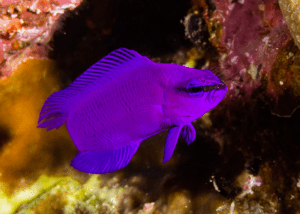 What are Dottybacks?
Dottyback is a common name for the pseudochromis family of fish. These are a family of attractively decorated neon-colored, small reef fish. The Pseudochromis fish have many subspecies displaying different patterns and colors. This is a large family with about 72 different species of pseudochromids.
They are generally small and grow to lengths smaller than 4 inches. However, some Dottybacks only reach 2 inches in adulthood. Although there are exceptions to the rule within the Dottybacks! The green wolf eel, for example, is a Pseudochromid that can measure as large as 18 inches!
Dottyback fish can be identified by their three or fewer dorsal fins. They also have incomplete lateral line organs. Interestingly, several species of this fish display sexual dimorphism traits. Also, males and females sometimes are strikingly different in appearance.
The smaller and more colorful members of the Dottyback fish are very popular in reef keeping. They add interest to reef tanks with their attractive, bright colors. You can find some of ORA's most popular and colorful captive-bred Dottyback fish below:
Where are Dottybacks found?
These striking fish can mostly be found in the Indo-Pacific and Western Pacific waters. Dottybacks also inhabit the Persian Gulf and the Red Sea where they populate many coral reefs.
They are timid fish that hide in rock crevices in the reef. Dottybacks feed upon smaller crustaceans, zooplankton, and worms. But in surprising contrast to their usually inhibited behaviors, they are known to be very territorial! Dottybacks can be aggressive to smaller fish when they invade their reef territory.
As with a lot of popular and beautiful marine fish, they are desirable reef tank inhabitants. Sadly, the demand for collection poses a threat to natural coral reefs. When fishermen attempt to harvest these animals, they can cause damage to the coral reef. There is also potential for the destruction of seagrass beds and other crucial habitats for the reef ecosystem.
Population disruption of the coral reef ecosystems is a direct result of overfishing. But there is something we can all do to help rebuild populations and limit damage to reefs by unregulated collection. Reef keepers should look to source their fish from aquaculture facilities. Purchasing reef fish from aquaculture sites will decrease the demand for wild-caught reef fish.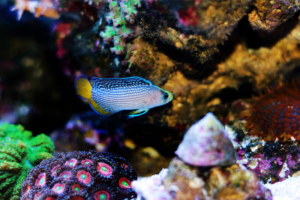 What is aquaculture?
Aquaculture, or aquatic farming, is the process of breeding and raising fish in a controlled environment. The culture of fish, plants, and shellfish help to protect wild species. This also helps to protect coral reefs by limiting the demand for wild-harvested fish.
So, how does aquaculture help the Indo-Pacific reefs? Simply put, the lower the demand for certain reef fish, the less likely local fisheries will be tempted to engage in wild collection. It really is as simple as supply and demand! Choosing to buy fish that are captive-bred can have massive benefits for coral reef ecosystems.
The Dottyback fish that are available here at AlgaeBarn have been responsibly sourced from ORA. ORA uses aquaculture methods to breed fish, live foods, and invertebrates for the saltwater and reef-keeping hobby. They are renowned for the health and vitality of the fish they breed.
ORA is one of the largest ornamental marine fish farms in North America. Since its operations began in 1996, ORA has become one of the most trusted breeders in the hobby. They provide an important alternative to wild-harvested fish and coral. ORA is also actively involved in several conservation projects. In reef locations all over the world, ORA has contributed to preservation and restoration. You can read more about their important work here in our blog.
Adding ORA's Dottyback fish to the reef tank
Adding Dottybacks to the reef tank will add some vibrant colors and excitement to the system. These beautiful reef fish can be added to reef tanks to provide visual interest and colorful appeal.
Dottyback fish are usually quite timid and introverted reef fish. But they can become territorial and aggressive towards smaller and more timid fish. For this reason, it is better to place them in tanks with larger, herbivorous reef fish. Fish such as tangs, damsels, and wrasses all make good roommates for Dottybacks.
ORA's captive-bred Dottybacks are hardy fish and have already adapted to reef life. Here are some tips which will help them to settle down quickly in their new reef tank.
Dottyback fish will require lots of rocks and crevices to hide amongst.
These fish should be fed daily. However, a healthy refugium that is loaded with pods will supplement the Dottyback's diet.
Once established in the reef tank, they will happily eat commercially available food. But we advise offering a varied diet with frozen food, Nano Brine and EcoPods!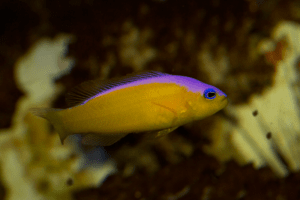 Conclusion
One of our objectives at AlgaeBarn is to examine the ways we can make our hobby more sustainable. But we know we can't do it alone. This is one reason why we team up with companies like ORA! We know that the only way we can ensure a more robust population of captive-bred fish in our hobby is by working together.
We hope this article has been helpful for those who may be considering whether to add ORA Dottybacks to their reef tank systems. Sourcing reef fish from ORA means that we are contributing toward the common goal of restoring the coral reefs of the Indo-Pacific.
Be sure to check back soon on the ways we are working together to rebuild the coral reef ecosystems. Until then, happy reefing!