Most "holy grail" aquarium fish species earn their special designation on account of both good looks and rarity. The rarity part may come from either legal hurdles to collection, difficulty of collection (occurring in very deep waters, for example) and of course actual rarity of the animal in its natural habitat. In addition to being astoundingly beautiful, the golden Cuban basslet's rarity is a consequence of at least a couple of the factors given above (i.e. small natural range and restricted fisheries). This has made it a "waiting list species" ever since its discovery just a decade ago and indeed keeps its selling price quite high. 
However, due to successful captive breeding efforts, the species is now available in pretty good numbers. This, as one might expect, has slightly reduced the typical asking price. Will aquaculture make this species as widely available (and as affordable) as its popular close cousins the royal gramma and blackcap basslet? Likely not, but time certainly will tell. For those who simply cannot wait to obtain and proudly display this living treasure, limited offerings are now available through Biota. 
This article takes a quick look at this species, compares it to its better known relatives and describes its captive care.
Golden Cuban Basslet natural history
The grammas are a group of basslets belonging from the family Grammatidae. As their common name suggests, they are smaller relatives of the true basses (Serranidae).  The family is distributed across the Caribbean and tropical Atlantic Ocean. Genus Gramma claims five species, namely Gramma linki, G. brasiliensis, G. loreto, G. melacara and G. dejongi. 
Gramma dejongi is native to tropical reefs in the Caribbean Sea and appears to be almost entirely restricted to the waters of Cuba (a single specimen has been collected in the Cayman Islands). It is distinguished from its brethren by not having purple as its main body color. It does have a bold splash of purple-magenta over its pelvic fins and a small patch over its belly and posterior dorsal fin, while a bright yellow color covers the rest of the body. A very conspicuous black dot graces its dorsal fin, just over the purple patch. 
Like the other basslets, it is rather smallish at about two and a half inches. 
The collector's find
All members of Gramma have found their way into the aquarium trade. However, as mentioned earlier, availability varies dramatically between species. For example, the royal gramma, which lives in relatively shallow water and has a huge range that is accessible for collection, is pretty commonplace and cheap. The blackcap is almost as easy to find and affordable. On the other hand, the small range and legal issues that limit harvest of the golden basslets have kept the species way up on the top shelf. Indeed, the species was rarely (if ever) offered for less than 5,000 USD. 
This certainly changed, at least a tiny bit, when accomplished marine fish breeder Todd Gardner successfully bred and reared Golden Cuban Basslets. After building up a modest inventory of captive-bred specimens, Biota has taken the reigns in the quest to bring this prized basslet to the public. This has brought the price down a tad, but the species remains rare enough to remain a conversation piece well into the indefinite future. Best of all, of course, because it's captive-bred, there is no longer a threat to wild populations. Not only are these cultured individuals exact replicas of their wild parents and grand parents, but they are (as is usually the case with cultured stock) comparatively hardy, social and disease-resistant.
Captive care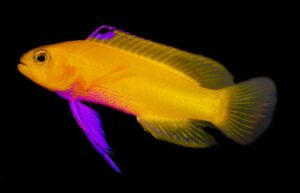 Here is one case where an aquarist can exhibit a fantastically beautiful and unusual fish in a modestly sized tank. Even smaller than the royal gramma, it doesn't require more than a 29-gallon tank. Though not particularly aggressive, it might get feisty with competitors, particularly with similar fishes such as dottybacks. 
It accepts virtually any small-bite meaty diet. A variety of microcrustaceans such as brine shrimp, mysis, etc. will suffice. Adding a high quality frozen or flake food can supplement its diet considerably. Basslets in general can be a little shy (especially under bright lighting) and get outcompeted during mealtime due to their reluctance to move from a safe spot; thankfully, that is less of a problem with these cultured, tank-trained specimens from Biota.
The golden basslet is not picky about its living environment so long as it has plenty of places to hide. A rocky (and we mean rocky, with many deep, dark crevasses) hardscape is ideal. Even if it hides a lot at first, the plentiful availability of shelter will boost its confidence such that it will eventually be out in the open often–showing off its gloriously vibrant self.
One in a while, we'll hear someone describe a fish simply as "too beautiful to describe with words." The golden Cuban basslet is undoubtedly a species for which words, or even photographs, cannot do justice. With its characteristically regal grammid shape, and distinctive golden yellow base color, it is an instantly recognizable and remarkable stand-out, even from across a room. We just cannot thank Mr. Gardner and Biota enough for all they did to finally make this jem available–in a sustainable manner–to the entire marine aquarium community.