If you love the style of CADE Aquariums but find that a tank with deep dimensions isn't what you want, then we have great news! The CADE Frag series is a variation of the CADE Reef systems with a shallower display tank. This series has been designed for reef keepers to propagate coral more easily – or for designing a lagoon style system.
But don't get hung up on the word "shallow" – these systems are just as functional any other sized tank. In fact, the shallow depth makes it a bit easier to maintain them. This is just one reason why we love the CADE Frag series tanks. They're versatile systems and designed with all the classic features we expect from CADE Aquarium.
In this post, we are going to look at the CADE Frag series aquariums. These systems have a few features that we are very excited to highlight. We also are going to discuss a few things we think make the CADE Frag series tanks perfect for beginners. So, let's jump right in!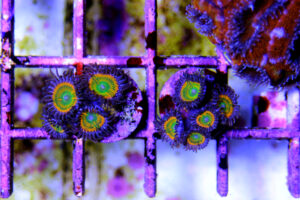 Let's start with some basics. A frag tank is a working system that prioritizes function over form. It is designed to be a practical system, and it is shallower than average aquariums to maintain workability. Like planting a tree in our yard, if we practice good husbandry that tree will grow, and it will need to be trimmed or pruned. Well, the same goes for corals! If we are practicing good husbandry the coral will grow. Over time, that coral will need to be trimmed back.
If you intend to take frags from colonies in the display tank, you'll want to have some idea of where they'll be relocated. The frags can be spread around the tank, given to other hobbyists, or grown out to trade or sell. Magnetic frag racks can be added to the display to hold the frag plugs. But frag racks aren't exactly designed with aesthetics in mind. For reef keepers that are familiar with this process, the magnetic frag racks can fill up very fast. At this point, the reef keeper starts to plan for an additional tank just to house their frags.
Functional design
The CADE Frag series is designed for functionality without compromising durability. These systems are designed with a contemporary aesthetic but also fit beautifully in a setting with traditional décor. Beside the shallower dimensions, CADE Aquariums are constructed with only the highest quality materials. This makes for a visually stunning tank designed to last a lifetime.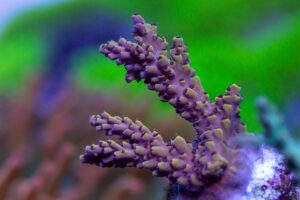 Easier to propagate coral
The shallow depth of the CADE Frag series tanks are perfect for propagating coral. An ideal frag tank should have a depth between 10- 18 inches. If a frag tank is much deeper than 18 inches servicing and maintaining coral frags becomes more difficult.
On the other hand, if a tank is too shallow the coral may not have enough space to grow which could create more work for the reef keeper. The shallower depth allows light to punch through the water. This makes it easier for coral to grow without extremely intense lighting. The shallow depth of these tanks makes it easy to reach in and get to work. The depth of the CADE Frag series tanks is about half the size of the CADE Reef series.
Coral propagation is a vital part of reef conservation. By growing healthy coral in captivity, reef keepers can help preserve reefs worldwide. This is a huge part of AlgaeBarn's mission, and we are proud to support like-minded reef keepers. That's why we are excited to share more about these systems with fellow hobbyists! Now, let's get into a few of the reasons why the CADE Frag series tanks are perfect for any reef keeper.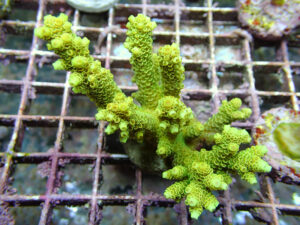 Built-in refugium with removable baffle
The CADE Frag series systems are unique in that they offer a built-in refugium with a removable baffle. This makes it very easy for beginners to customize their reef tank systems. A refugium is a great way to naturally manage nitrate and phosphate levels. If these compounds go unchecked, they can harm delicate coral. The fuge is also a great place to culture pods. These little critters help keep the system healthy.
Media baskets for maintenance and optimized filtration
One of the benefits of the CADE Frag series is the use of filter media baskets. These baskets eliminate the need for additional media reactors. This makes maintaining and servicing the system much more effortless. The baskets are easily removable, so you can quickly remove the media and replace it. This also maximizes filtration efficiency. This means the reef keeper won't have to worry about compromising the system's water flow.
In addition, CADE Aquarium designed the filter media baskets to hold various media types. The reef keeper can use biofilter media like Marinepure Gems, activated carbon, and phosphate or nitrate removers. The baskets are easy to access and allow the reef keeper to change out the media in minutes.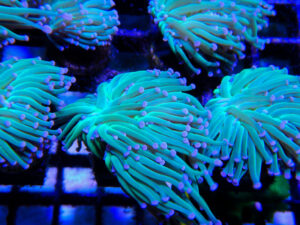 Gravity-fed ATO and large float valve
The ATO system on the CADE Frag series is gravity-fed, meaning that the water is replenished automatically by the force of gravity. This is a very efficient method of topping off the tank with RO water. Also, it doesn't take up any valuable real estate in the sump. The float valve is also an industry standard, meaning that it is very reliable and easy to use.
Opti-clear glass
The CADE Frag series have a rimless open top design with flat polished edges. The highest clarity Opti-Clear glass panes are joined together with German Wacker silicone. Precision silicone application yields flawless seams and a razor-sharp finish.
Silent twin intake slimline weir
The silent twin intake slimline weir on the CADE Frag series is a great feature that helps keep a pristine reef tank. The dual weir intakes act as an emergency backup in case of a blockage. This feature helps keep the system running smoothly. Additionally, the slimline design allows for efficient debris uptake at all levels of the water column.
White laminate base glass
The CADE Frag series systems have white laminate on the bottom glass panes. This detail is perfect because most frag systems do not have sand beds. The white color helps to reflect light and creates a bright display. This is ideal for propagating coral or shallow reef applications where bright lighting is necessary.
Aluminum jump net
The aluminum jump net is an excellent accessory on the CADE Frag series tanks. It's included with the system, and it comes assembled so it is super convenient. Jump nets prevent precious reef fish from leaping out of the tank. This is also a great feature if you have small children or pets that could potentially disrupt the tank.
CADE continues to make great strides in the aquarium industry. We also think they have reinvented the wheel when it comes to all-in-one systems. With the CADE Frag series, they've taken everything great about the Classic S2 Reef systems and made it easier to operate a working frag system.
Conclusion
With design modifications explicitly made for to propagate corals, the CADE Frag series systems are the best we've seen in the industry. For shallow reef or lagoon style builds, CADE Aquariums has set the bar high for perfection.
All-in-one aquarium systems like the CADE Frag systems make it easier than ever to build a successful reef tank. The hassle of researching necessary individual parts, their functions, cost, compatibility, and installation is no longer a problem. This is the perfect solution for a beginner or an experienced reef keeper who is ready to make the leap to fragging coral. The beauty of an all-in-one system is that it includes everything you need so it's easier to focus on enjoying the reef keeping hobby.