There are more than a few All-In-One aquarium manufacturers out there. Some of them make pretty decent tanks. A much smaller handful of companies make decent large tanks. Of these, none truly measure up to CADE. Particularly when you look closely at their design, the top-quality materials with which they are fabricated and their reasonable pricing, it's hard to deny that they present unmatchable value. CADE is the only aquarium manufacturer that we approached to partner with, and for only one reason: We deem them to be the very best.
We're especially excited by the recent release of CADE's SF2 frag tanks. Boasting the same craftsmanship, innovative features and add-ons as their other series, these tanks are made with the special needs of coral farmers/vendors in mind.
This article provides an overview of the four models in this series.
Time is coral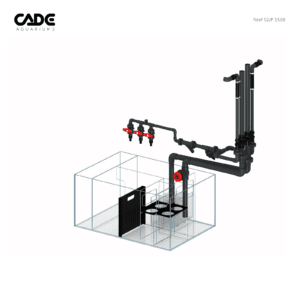 We get it. We know that you know how to build aquarium systems. But we also realize that the average reef aquarium hobbyist, and certainly the commercial scale coral farmer, doesn't have time to size, purchase, modify and install every tube and gasket on their systems. Plus, whether your collection is displayed in a shop or in your home, you likely want to show off your goods in a system that looks as nice as your highest-end frags. This is why we're sure you'll dig these tanks.
When we say these are All-In-One, we really, actually, seriously mean that they're complete. Down to the last nut and bolt. All you need to add is your preferred lights and pumps. It has its own power management system. The sump is (in the two larger models) refugium-ready. And the ATO is already built in! "Plug-and play" aquarium keeping isn't just for the newbie; CADE's Frag Series systems allow professional coral farmers to focus more of their attention on coral farming. 
These systems get you ready for business fast. The sump arrives in the stand. You simply position the tank on the stand and then connect the prefabricated plumbing. The filter baskets are built-in, so you just add whatever chemical or biological media you want without any fuss. Chiller feed taps are already in place if you need them. The reactor feed is already there, so you won't have to mess with that either! With the super-cool power plug and switch panel, you'll even have an orderly electrical hook-up from the get-go.
Frag Series highlights
To say the least, these rimless tanks are stunning. All the tanks in the series are constructed with high-clarity OptiClear glass and precision-applied silicone. And of course, they all share the low-profile dimensions that are so important for frag tanks, allowing for top viewing, facilitating handling of frags and reducing light attenuation. This means better access to your collection, both visually and physically. It also means that instead of having to reach into a deep tank to organize your collection, you can now easily use tongs with your dry hands. You get the most rack space for the smallest volume of water. And you get the most out of your lighting. Overall, these dimensions help you to manage a large number of frags as efficiently as possible.
All SF2 models feature a twin intake weir, a gate valve and an emergency drain. The stylish and extra-tall stand is amazingly functional, waterproof and sturdy. The stand also features accessory shelving and adjustable caster feet. Every inch of these systems reflects CADE's uncompromising commitment to quality; even a custom jump net cover is included. Really, the perks and advantages of a CADE system are just too numerous to mention in an overview such as this; just check out this list of specs!
Four great choices
The Frag Series is available in four sizes. The smallest, the Frag 600/F, is the perfect upgrade for the nano reef aquarist. Though this model is compact, it features the same high-performance filter system as the larger CADEs. A smaller tank doesn't have to condemn your corals to crappy water quality! This model has a total capacity of 46 gallons (33-gallon display and 13-gallon sump). 
We think of the Frag 900/F as perfect for the advanced home aquarist that wishes to display a larger collection of high-end coral frags. At 63 gallons total capacity (50-gallon display and 13-gallon sump), this model is also compact but provides just a little more space for highly industrious home-based farmers.
Ready to do shows and swaps? Needing to maintain larger inventories? Then you'll love the Frag 1200/F. Here you can hold a respectable collection of frags with 88 gallons total capacity (66.5-gallon display and 21-gallon sump). This is the smallest size model that incorporates a macroalgae chamber.
At 97 gallons total capacity (71-gallon display and 26-gallon sump), the Frag 1500/F is a seriously classy way to market top-shelf frags, especially in a retail environment. This spacious model is just a bit bigger from the last model, but it is absolutely stacked with filtration capability. While the first two models have one filter sock and the third model has a pair, this model has four socks. And while the first two models have three filter baskets and the third model has four of them, this model has nine!
Regardless of the size of your frag collection, CADE's Frag Series 2 systems give you a means of exhibiting them with an extra touch of elegance. But even more importantly, every single model features a professional design that eases maintenance and promotes the health of your precious coral investment.