At AlgaeBarn, we advocate for and promote the use of high-quality, long-lasting equipment. After all, if we use equipment that lasts, then we are producing less waste. This is just one of the reasons why we love CADE Aquarium systems. These all-in-one aquariums are the most elegant and durable systems on the market. Naturally, we hear a lot of questions about lighting recommendations on CADE systems. In response, we decided to give our readers a handy guide on lighting for CADE Systems.
Lighting in a reef tank is crucial. Zooxanthellate corals, the stars of the show, need a great deal of light to thrive. Many fixtures have state-of-the-art technology that provide a truly customizable lighting system.
As you probably have heard, lighting in a reef tank is crucial. This makes sense, since zooxanthellate corals, the stars of the show, need a great deal of light to thrive. For this reason, many reef keepers are particular about their choice of lighting. And today, so many fixtures have state-of-the-art technology that provide a truly customizable lighting system.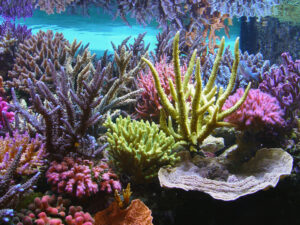 What the hobbyist intends to keep in the tank is the second big decision after landing on the aquarium system. Any kind of lighting will do if we do not keep animals like corals or clams. If the reef keeper is only going to keep fish, then our job is simple! T5 fluorescent fixtures will provide adequate light for FOWLR systems.
However, to illuminate the vibrant colors in the fish, some folks will decide to use more powerful lighting on fish-only tanks. However, for the purpose of this article, let's suppose we are building a reef tank system and our goal is to maintain a mixed reef display.
CADE Peninsula S2/P 1800
We will need very specific lighting to meet the demands of intensity and color spectrum that coral requires. Studies have confirmed what hobbyists have known for some time: that light in the blue range of the spectrum is optimal for coral growth. Today, LED lights are designed specifically for reef tank systems and emit a wide range of colors.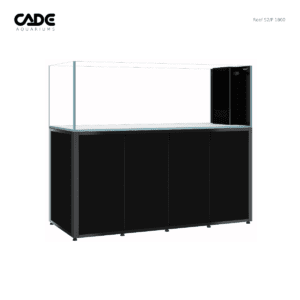 The CADE Peninsula S2/P 1800 is a beautifully designed system which explains why it is one of AlgaeBarn's best-selling systems. Expert craftsmanship goes into making sure the CADE Peninsula 1800 S2/P is adaptable to any configuration. Not only do the Peninsula series systems look great, but they also stand the test of time.
The dimensions of the CADE Peninsula S2/P 1800 system are 70"x31.5"x23.5". This system has a total capacity of 265 gallons. The CADE S2/P tanks' extra-wide profiles are one of their best features. With the extra room, the reef keeper can make their rockscape design appear richer from any vantage point. This allows for corals to have plenty of room to grow and spread out.
A system with these dimensions gives the reef keeper a few different options for lighting. Our first suggestion is the Kessil A360X. The A360's reworked, top-tier sunflower heat sink gives a slimmer profile and wider illumination area. With the latest generation LED array and newly designed optics, light can be dispersed more evenly. Kessil's patented LED technology can pack a lot of LED chips into a small area, making for a bright, all-encompassing beam of light. For most reefs, the maximum penetration depth is between 24″ and 30″ below the water's surface.
Lighting for CADE Peninsula S2/P 1800 reef tank systems could include mounting three Kessil A360X. Each fixture offers between 20"-24" of coverage. This should provide plenty of illumination for the 70" long tank. The Kessil A360X also gives the reef keeper more options for mounting configurations.
CADE Peninsula S2/P 1200
Many of the latest systems are completely customizable when it comes to color spectrum and intensity. The results that you hope to see in the reef tank system will determine what percentage of each color to display. Many reef keepers will go heavier on blue and violet to intensify the coloration of their corals. To promote coral growth, many hobbyists will alter the intensity of the white LED as well. Most reef keepers will agree that being able to control a lighting system to this extent has been a real game changer for the hobby.
Our second most popular CADE system is the S2/P 1200. This system is more compact than the S2/P 1800 but at 47"x 31.5"x 23.5", it commands attention from all sides. The CADE S2/P 1200 is an open-top design with Opti-Clear glass and polished flat edges. The silicone is meticulously applied, resulting in flawless seams and a clean, modern look. The extra-tall, pre-assembled CADE Peninsula Series 1200 S2/P cabinets are as functional as they are striking.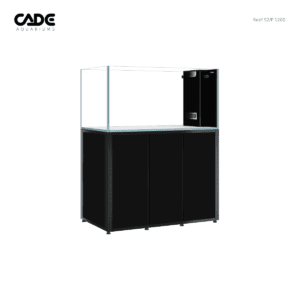 Another option on lighting for CADE S2/P 1200 is the Kessil AP9X. This lamp compounds the thrill of using cutting-edge technology. Kessil took the time to redesign the AP9X, updating it with features found in modern aquarium LEDs. The reworked optics ensure a uniform illumination of the reef tank system, covering an area up to 48 inches.
The hemispherical lens of the spotlight is replaced by a simple lens and reflectors, which effectively preserves a great deal of the apparent brightness and large shimmer lines. And with the Kessil app, the red, green, and purple color channels can be customized independently of the Tuna Blue spectrum. To maximize coral health, Kessil makes it possible to dial in a custom color without affecting the primary spectrum. The AP9X is equipped with True UVA light-emitting 395nm LED chips for optimal coral coloration.
CADE Reef 1500 S2
Another one of our hottest CADE Aquariums is the Reef 1500 S2. This system has a capacity of 169 gallons which is the perfect size to build a stunning reef tank system. The CADE Reef 1500 S2 measures 59"x27.5"x23.5". Like all systems in the Reef Series, a dual weir overflow is included and a large ATO reservoir is neatly concealed in the back of the system. The internal rear panel is made of double laminated black glass and is accessible from the top.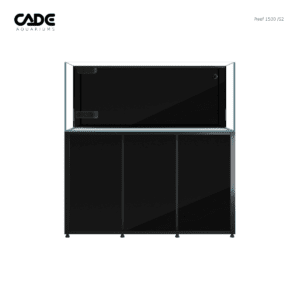 The Reef 1500 S2 is designed to accommodate tank-mounted lighting brackets. One option for lighting this system is to mount three Kessil A360X lights. Not only would this lighting be more than adequate, having three A360X with a Gooseneck or mounting arm would only add to the modern aesthetic of the Reef 1500 S2.
The Kessil A360X can be adjusted to include red, green, and violet + indigo in addition to the Tuna Blue. Kessil's cutting-edge approach to controlling temperature improves both durability and output. When compared to similar fixtures, the densely packed LED array produces light of visibly higher quality. Commonly used in reef tank systems, the Tuna Blue spectrum has been shown to improve coral growth and coloration. With the Kessil A360X, you can rest assured that your coral will continue to flourish regardless of where in the spectrum you set it.
The Kessil A360X can penetrate 24"-30" below the surface. This would allow the reef keeper to keep more low-light corals. On the other hand, the Kessil A360X has a coverage of 20"-24" which would provide enough illumination across the 59" tank for keeping a mixed reef or an SPS dominant system.
Final Thoughts on Lighting for CADE Aquariums
Adequate lighting in the reef tank system is crucial for success. And with so many manufacturers and features being introduced, it can be overwhelming to make the best choice for your reef tank system.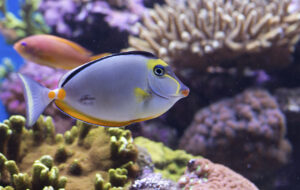 When corals are illuminated with Kessil's proprietary combination of blue, violet, and red wavelengths, it's as if you're seeing coral for the first time! When we see a coral with heavy fluorescence, it can feel like we're looking at the world through colored glasses. Because of this, AlgaeBarn is pleased to offer aquariums and equipment from two companies whose work, we believe, is unparalleled. We also hope that this article has helped to explain a few of Kessil's upgraded features.
These systems are not exactly cheap. They are made from premium materials and feature construction that will last a lifetime. But we have great news – the reef tank of your dreams can be financed through Affirm!
You can purchase a CADE Aquarium system from AlgaeBarn and enjoy interest-free financing from Affirm. Financing rates will vary based on factors such as your creditworthiness, the size of the purchase, and any required down payment.