Todd got into the saltwater aquarium hobby after some encouragement from a coworker. "I had a freshwater tank at the time, and he talked me into giving saltwater a go as well. My first tank was a 30-gallon FOWLR (fish only with live rock). Nine years later, I had an Oceanic 200-gallon." 
But then, as he progressed as an aquarist and had a better idea of what he wanted in an aquarium system, he started looking for a more expertly constructed product. "I first learned about CADE tanks by simply doing internet searching. When I found the first ads for the S2 line, my first thought was 'that is exactly what I had in mind' as far as features for a reef tank set up. I thought 'wow, they really thought this through.' Beautiful glass, huge sump, controller section." 
Built CADE tough
Todd's high standard for durability led him to choose the 2100 S2. "The materials used in construction was my selling point. The fact there are no parts to corrode is fantastic. I was in the process of placing my order with Samantha for the 1800 S2 when I saw the ad for the 2100." He goes on to say that "I immediately contacted her and changed my order for the 2100. I had to wait an additional 6 months for it to arrive. I was the first in the US to receive one and it was worth the wait!"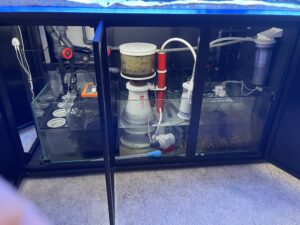 He had the typically BIG reaction upon his tank's delivery to his home. "My first thought was these crates are huge!! When I opened the crate with the tank in it I could not believe how beautiful it was. The glass was crystal clear. The seals were flawless." Better yet, "It was a breeze to set up and get level. The only difficulty was the sheer weight of this thing and getting it inside (self-inflicted for choosing a massive tank). But he adds, "Piping was super easy. Once level, we had it plumbed and filling with water in 30 minutes."
According to Todd, the system runs beautifully. "I love the huge ATO reservoir tucked behind the tank and out of the stand area, giving more room for equipment." He also appreciates the larger sump. "It is totally compatible with the equipment I use on my tank. I use the chiller area in the stand for my Apex units and dosing pump and reservoirs along with food storage. The two level wier over flows are awesome–allows for great debris removal from the tank, not just surface skimming."
The only improvements he would make have already been implemented in the newer models. "Sump baffles slightly changed for roller mat installation. Check valve in return line etc."
Easy aquascape
Todd built his aquascape in three sections for easy transport into the tank as well as removal when necessary. "I built it with more of the fish habitat in mind. Lots of caves and pass-throughs yet lots of water flow. I made sure I left the back of the tank open–the full width for flow as well as the sides for flow and cleaning." He uses live sand as a substrate.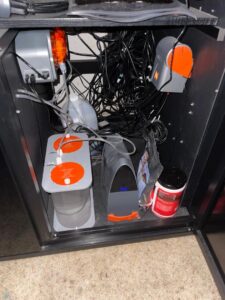 He doesn't mess around when it comes to water circulation. "I use two Maxspect Gyre 350s (one at the top at each end) set on 10 second alternating flow. I also have one MP40 on the end at the back blowing across the entire back of my scape."  
He decided to add a nice custom touch by topping the tank with a custom lid made by ReefinAintEZY. "I light it with five Ecotech Radion G5 Blues. 
Filtration is pretty straightforward. "In the sump, I use filter socks. I know people don't like them much any more but it forces me to get up close and personal with my sump every 3 days. I use the refugium and it's full of Chaeto topped with an Apex Grow light. I use two 300-watt BRS titanium heaters controlled by an InkBird wireless controller backed up by the Apex. I use a 40 watt AquaUltraviolet sterilizer fed from a dedicated Jabao pump. I use a Reef Octopus Elite 220 skimmer coupled with an Icecap CO2 set up as recirculating with a moisture trap. My return is a Reef Octopus Varios 8 pump. Monitoring everything is an Apex. I use the Apex Trident and Apex Dos with DDR reservoir for my dosing needs. I have flow meters on the return line and UV feed line." 
As far as livestock, Todd currently keeps four yellow tangs, three purple tangs, two hippo tangs, one powder blue tang, five (that's right, FIVE) ocellaris clowns, four Kupang damsels, two green chromis, some fire shrimp, a few peppermint shrimp and of course a hermit and snail cleanup crew. His coral stock consists mainly of hammers, mushrooms and zoas. "Plan is to continue the coral stocking with more LPS, zoas, and some SPS."
Conclusion
He definitely believes his CADE purchase was a good value. "Don't get me wrong, it is a high end tank,  but it is packed with high end features." Moreover, "customer support has been stellar since Day 1. If I ever need to replace this tank or add another, I will definitely buy another CADE without hesitation." He goes on to say that "to anyone looking at or considering a CADE, you will not be disappointed. Build quality is top notch. Materials used are top notch. Design is top notch." 
Well, we think his whole set-up, naturalistic aquascape and all, is top-notch! He explains that he doesn't post a lot of pictures of his tank on Facebook, but we do hope that all changes some time in the future. Thanks, Todd, and happy reefing!
If you're a CADE owner and would like to share your CADE experiences with the aquarium community in an article such as this, please reach out to [email protected]. We'd all love to hear from you!