Lionfishes are among the most captivating and notorious fish in this industry. While a number of lionfish species are available–in various sizes and colors–we here specifically discuss the red volitan lionfish (Pterois volitans). And, where they do and don't belong!
Volitan lionfish are a beautiful addition to a home aquarium and can definitely be the most eye-catching fish in your tank. Though carnivorous, they can be trained to accept flakes and pellets due to their quick feeding response. They have almost dog like personalities and are very curious. This can be problematic when completing maintenance and cleaning your aquarium so it is crucial to ensure that you either wear protective gear when putting your hands in the tank or to keep a close eye on the location of your fish while cleaning the tank.
Each spine on their body can release venom if it punctures something and can cause excruciating pain.  Most stings in captivity occur by accident due to the lionfish just quickly swimming to the top thinking there's food and brushing against your hand and penetrating it; however, they are still dangerous and should always be kept with caution.
Mass invasion of the Lionfish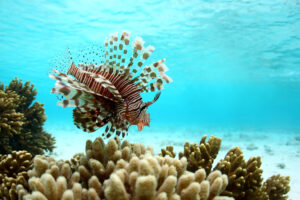 This is the fish that reminded everyone how important it was not to release any of the fish in your home aquarium back into the ocean. Once a fish has been placed in captivity, it cannot go back into the wild; once it has gone into your tank, it has likely been in captivity for weeks already. That may not seem like a long time but this fish has grown accustomed to having food handed to them everyday, they don't have to hunt or hide, they are completely safe from predators in our tank. 
Moreover, a lot of these fish come from overseas and are not from our part of the ocean. Therefore, by releasing aquarium fish into our waters, you could potentially damage our natural ecosystem by releasing a non-native fish. Even if the fish is native, odds are it won't be able to survive in the wild due to the amount of time it was in captivity.  Most of the time, you can find a local fish store or someone else with an aquarium that will take the fish off of your hands. Not only is it not in the best interest of the fish, but you also don't know what ecosystem you could potentially destroy just by releasing one fish. This is exactly what has happened with the lionfish! 
Scientists believe that the invasion of the lionfish in the Atlantic Ocean started with releases by home aquarists (most likely, these keepers tired of dealing with the animal's predatory behavior or the threat of getting stung). The issue here lies in the fact that we have no natural predator for the lionfish in our waters, allowing them to proliferate with nothing to keep the population under control. 
Lionfishes have now destroyed parts of the tropical West Atlantic ecosystem. About 93% of the invasive populations there are volitan lionfish. Things unfortunately have reached a point where it is illegal to catch a lionfish and not kill it.  There are even restaurants by the water that will cook the lionfish for you if you happen to catch one! 
Being aware
As an aquarium hobbyist, it is important to be mindful of where our fish come from. It additionally is crucial to take care of their aquarium homes to ensure that these fish continue to thrive. Your favorite fish may be in danger of extinction one day if we continue to be careless! There already are indeed many species of fish that are at risk of extinction due to improper collecting or improper releasing. We have a beautiful gift to be able to replicate these creatures' environments in our own homes. And it is a gift to be able to have an aquarium and keep fish from all around the world!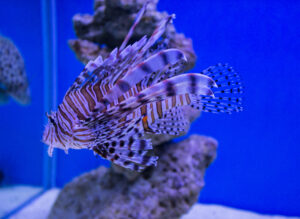 There is so much work that goes in to getting that one fish in your tank and it has to be protected.  If you saw from start to finish what it looked like from getting a fish from the wild, all the way to your local fish store, it would really make you think about how large this industry is.  For some people, this is their only source of income. They spend their lives properly collecting fish and getting permits and following all laws to do so. What's unfortunate is that just a few people illegally collecting and releasing can ruin it for everyone, including the people who depend on it and follow the rules. 
Perhaps we can use what we've learned from the lionfish invasion to protect our hobby–protecting the people whom we don't see behind the scenes working day and night whether collecting our fish or breeding them in captivity. It is a hard process that requires extreme dedication and these people often don't receive the respect they deserve!  
The lionfish just happens to be the best example of the worst situation. In the shop I manage, we have a poster on our wall talking about the invasive lionfish. It makes them out to look like monsters, when in reality, they're just a fish that ended up in the wrong place. We keep that poster in our shop to remind people that we will always take fish back if they don't work out in your tank. It's also there to remind people what can happen if we decide to be irresponsible!