Hundreds or even thousands of species of microalgae and photosynthetic bacteria may appear in your aquarium. Before treating any type of algae, it is crucial to properly identify exactly what type of algae you're dealing with. Luckily, most of them can be easily eradicated if identified properly.
We here discuss a few commonly encountered saltwater aquarium algae.
Hair algae
This first type of algae is probably the most common one that most hobbyists will come across in their aquariums. Green hair algae (GHA) is one of the fastest growing algae and can be quite a headache when trying to eradicate it. Green hair algae looks pretty much as the name states; it is a hairy/feathery green algae that can be either short or long. It almost has a grassy look to it and will spread quickly. 
This algae thrives on three things: Light, nitrate and phosphate. So, before dosing any products to help remove it, always check your nitrates and phosphates and make sure your lights aren't on longer than 12 hours/day. If you've noticed that you have high nitrates it would be best to complete a water change in your aquarium and make sure any detritus that is found is cleaned out. Nitrate can build up from overfeeding your tank or having too much excess waste. If you've noticed your phosphates are high, check to make sure that your skimmer is running properly. If you don't have one, it may be time to make the investment! Skimmers do a great job at filtering out excess proteins in the aquarium and will help keep your tank looking brand-new.  
Cyano
This next algae is technically not an algae, but it is commonly mistaken and treated as one.  Cyanobacteria which can also be called blue-green algae will usually appear as silky mats in your aquarium. It can easily be brushed off and can quickly cover your aquarium. Cyanobacteria has properties of both algae and bacteria which can make it tricky to take care of. It is usually caused by high phosphate levels so it is best to check your parameters before taking any measures to remove it. As many cyano can utilize organic carbon sources, it's also wise to replace your chemical filtrants (e.g. activated carbon media) frequently. 
When purchasing treatments for it, it is usually referred to as red slime alga; however, it can actually come in many other colors including green, black or purple. Even if it is a different color, you will still be looking for the same characteristics. Usually, there are bubbles built up on it and it is easy to brush off the rocks as it is slimy. You will usually want to start treatment by completing a water change and manually removing as much of it as you can. The next step is to purchase a cyanobacteria-specific treatment. Treatment generally lasts 1-2 weeks. You just have to ensure that you keep your parameters within the acceptable range and keep up with maintenance to prevent it from coming back.
Diatoms
This next algae is most commonly found in new saltwater aquariums that just finished cycling. Brown diatom algae can grow anywhere in your tank but it is mostly seen on your substrate. It can have a yellow-brown color and even sometimes it can appear as almost black.
If your new tank is experiencing a small diatom algae bloom, it is perfectly normal and there is no need to do anything to remove it. However, if your tank is mature and has been running for a long time and you're experiencing diatom algae, there's something going on in your water chemistry that needs to be addressed. 
Using only RO/DI water to make your saltwater is one way to prevent it as silicates and silicate acid in water sources can cause it to bloom. Also, check for silicates in your salt that you use and maybe try mixing with a different brand. The most important part of successfully removing brown diatoms is properly diagnosing what its nutrient source is. Removal is a fairly easy process once the nutrient source is diminished, which starves it off. 
Bubble algae
This last algae can cause issues because if you try removing it improperly as it can release thousands of spores that cause new algae to grow. Green bubble algae can be a pain due to its unusual look and characteristics. It appears as small green bubbles on your rocks or coral skeletons and can spread quite rapidly if not properly taken care of. You never want to attempt to manually remove it unless you completely take the rock out and remove the bubbles outside of the aquarium and then rinse the rock with fresh saltwater. 
Luckily, there's a crab that loves munching on this algae. Emerald crabs do a great job at controlling bubble algae and are a great natural means of removing it from your aquarium. They will also help take care of many other types of algae in your aquarium and will spend most of their time hiding out in the rocks looking for food.
Conclusion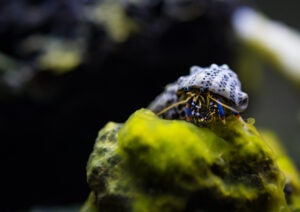 The algae I listed above happen to be the most common ones you will experience in your tank and the most common I receive questions about from my customers. There are many types of algae you can experience in your aquarium and it is always best to properly identify what algae you have before taking an action to remove it. Each algae can be caused by many different things; however, most are caused by high nitrates and phosphates or by running your lights too long.  
You never want to go overboard when removing nuisance algae (such as carrying out excessive water changes). Too many water changes can cause disruptions to the natural balance in your tank which can be detrimental to all of your livestock. Always take things slowly and never quickly react after discovering algae. Removing it is often a lengthy process and is not something you can fix in a day or even weeks!