Can you name a single ugly marine angelfish species? Even a mediocre one? Of course not! It's no wonder that this magnificent family of fish is so cherished in the hobby–and a blessing that we hobbyists have relatively easy access to most angelfish species. For those true rarities (such as peppermint angels, tiger angels or personatus angels), the combination of novelty and striking beauty makes for an usually expensive aquarium fish. Thanks to recent successes by fish breeders, however, some formerly uncommon, pricey species are now appearing as small, healthy, sustainably raised alternatives. One excellent example of this is the goldflake angelfish.
Goldflake angelfish natural history
The goldflake angelfish (Apolemichthys xanthopunctatus) occurs in parts of the Pacific Ocean from the Cook Islands and Gilbert Islands to the Line islands and Micronesia. Though it has a fairly wide distribution, it typically is never very abundant. It is primarily reef-associated (especially channels and outer reef slopes). While it may be encountered at as much as 10 to 65 meters depth near drop offs, it most often is seen at 3 to 8 meters depth. It is non-migratory and can live alone, in a pair, or within a small group. Its diet in the wild largely consists of algae, sponges and tunicates. 
One of only nine species in this medium-sized angelfish genus (usually bigger than a Centropyge, while smaller than a Pomacanthus), wild goldflake angels can attain a length 25 centimeters (captive specimens of this size remain a rarity). 
Juveniles have a cool vertical eye stripe; this fades as the fish matures with only only a bit of a mask and dark spot above the eye remaining on adults. A prominent ocellus (eye spot ) straddles the fish's rear flank and dorsal fin. As it matures, this spot becomes part of the dark coloration that eventually covers most of the dorsal, anal and caudal fins. A rich baby blue color covers the lips and additionally forms a margin at the dorsal, anal and caudal fins. This blue may extend all the way to the opercular spines. It may also fade across the rear flank. The body coloration is somewhat muted–a dirty yellow brown–but this is merely a subtle backdrop which makes the bright metallic yellow-gold 'flakes' really pop.
Aquarium care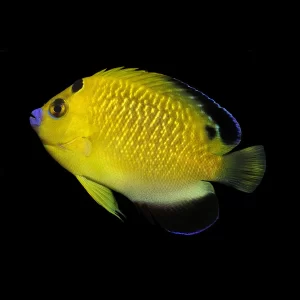 The goldflake angelfish is certainly among one of the touchier angelfish species in captivity. For one, it is particularly susceptible to certain deadly infections. Given its somewhat specialized diet in the wild, it could possibly also suffer from certain dietary deficiencies in aquaria. 
Experts recommend a nice big, roomy tank for this species (at least 100 gallons, and likely 120 gallons or larger). This is for several reasons. Of course, while not among the largest angelfish species, it still gets pretty big and is also fairly active. A larger tank (particularly with real live rock) gives it opportunity to graze on a variety of sponges and other sessile invertebrate prey. Perhaps just as importantly, a larger living space is good for its 'psychological' health, giving it more places to explore and more places to hide and feel safe. 
It is said to be relatively peaceful in its interaction with most tankmates. Still, caution is recommended when keeping it with similar species (especially with other angelfish). 
Like many angelfish, the goldflake angel gets mixed reviews when it comes to its 'reef-safe' status. Many report that it is extremely well-behaved in the typical reef tank environment, while others report that it may turn on various invert 'foods' such as your zoanthids, clams, tube worms, LPS corals and in some instances even SPS corals. Thus, for those aquarists who desire this species but are not very fond of these risks, a FOWLR system will be more appropriate.
While we would of course say this for any species, we stress that the goldflake angelfish does require excellent water quality and a top-notch, highly varied diet to survive and thrive. Undoubtedly, captive bred goldflakes are much easier to keep and present a significantly better chance of surviving the ordeal of adapting to a new aquarium system.
Conclusion
Even next to all the other astoundingly beautiful marine angelfish species, the goldflake angel stands out. Its shiny, sparkly 'gold flakes' make it truly unique not just among its angel relatives but among all marine aquarium fish. Once a highly coveted 'collector's species,' it is now available at a reasonable price (a considerably lower price anyway!) as captive bred. Even better, these farmed specimens are way hardier than their wild counterparts. It even appears that the farmed individuals are comparatively more reef-safe (including adults)! 
For sure, the goldflake angelfish is an especially compelling example of how aquaculture can turn a somewhat delicate, expensive and hard-to-find species into a relatively commonplace option–a dream fish into a reality fish! Given its distinctive and, well, awesome appearance, we expect to see a lot more captive bred goldflake angels out there in the very near future.