Macroalgae are a great addition to any aquarium. They remove excess nutrients in the water column (such as phosphates and nitrates) and provide shelter for copepods which helps with successfully breeding them in your tank. There are many different types of macroalgae; in this article I will be discussing the best types for beginners.
Macroalga are always a great addition to any saltwater aquarium due to their attractive appearance and ecological benefits; they offer an additional source of filtration for your aquarium and can also add different color and texture to your display. There are dozens of different types of macroalgae readily available in this industry, with many of them being suitable for beginners.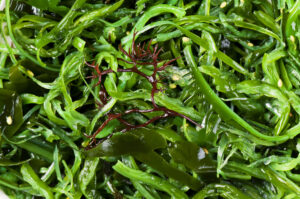 Always research which spectrum of lighting is best for the macroalgae you decide to add to your aquarium as light preferences differ between species. As some of these can grow fast, they may drain your tank of all nutrition so it is best to keep an eye out for die off as it can show that its finished its job in cleaning your tank and now needs a little boost of nutrients. You may also need to replenish trace elements to keep them thriving. 
Use caution when adding any of these algae to your display if you have any herbivores in your tank as it may just become a meal for them. Some macroalgae aren't as desirable towards herbivores; consider choosing one of those if you plan on keeping it in your display tank. However, if you don't mind your fish eating the algae, it will cause no harm to them and actually is a great source of nutrition. You may need to replace it often depending on the types of herbivorous fish and inverts you have in your tank. If you notice it growing far too fast in your display, you can always purchase an herbivore that is suitable for your aquarium to help keep it trimmed down.
Chaetomorpha
Chaeto (Chaetomorpha linum) algae is one of the easiest and fastest growing macroalga you can add to your aquarium, making it perfect for beginner aquarists. You can grow it out in your tank or in your sump as long as you offer proper lighting for growth. Due to its sturdy framework it creates a perfect place for housing and breeding copepods. It grows out in tangled clumps that will eventually take over your substrate and potentially your rock structure which is why most people decide to set up a refugium in their sumps to keep it under control. Due to it's fast growth it is able to soak up excess nutrients in the aquarium rapidly. If it starts becoming too abundant in your aquarium, it is easy to harvest and dispose of an excess you have. It is crucial to offer a full spectrum light for rapid growth of chaeto algae.
Sea lettuce
Sea lettuce (Ulva lactuca) is a perfect addition to any refugium that offers a moderate flow that lets it tumble around. As long as this algae is offered proper lighting and housing, it is extremely hardy and can adapt to new environments. Ulva is great at absorbing excess dissolved nutrients and is best when placed in a refugium due to it growing in loose strands it can just wander around the aquarium. Sea lettuce does not readily attach itself to hard surfaces but will grow in sheets at the surface of the water column. Because it grows at surface level and shallow waters, it is adapted to intense lighting (which needs to be replicated in the home aquarium). As long as its few needs are met it will thrive in your tank and will help keep it looking brand-new.
This macroalga is a great snack for herbivores in your aquarium. If your refugium is starting to become overstocked with sea lettuce, it is easy to remove by the handful which can be offered to your tangs or angelfish.  
Ogo
Green ogo (Gracilaria tikvahiae) is a thin, dark green macroalga that can offer a nice texture to your aquarium or refugium. It is very hardy and will grow rapidly if maintained under proper conditions. It does best when it is given at least 8 hours of proper lighting everyday. Green ogo prefers moderate flow that allows it to swiftly tumble around, too much flow won't allow it to properly settle or attach to anything while too little flow can cause excess build up and that can cause damage to it.  If you plan on keeping this algae in your main display, keep in mind that it is very buoyant, so finding a way to tie or weigh it down is essential to prevent it from flowing freely throughout the aquarium.  
Like sea lettuce, this alga is packed full of nutrients and is a great snack for herbivores. If you are growing it out in your refugium and notice there's an abundance, it can easily be trimmed. Instead of throwing away the excess, you can feed it to the fish in your tank.
Leaf caulerpa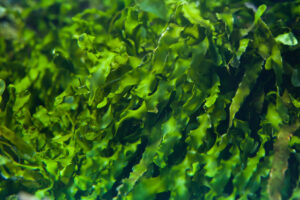 Leaf caulerpa (Caulerpa prolifera), also known as blade algae, does an excellent job at removing excess dissolved nutrients. This bright green macroalga has a leafy structure and it can grow up to 4 inches in length. It propagates by sending out runners over a sandy substrate. It thrives when offered at least 8 hours of bright lighting per day.
Leaf caulerpa is well-known for its rapid growth and can quickly take over an aquarium. Due to this trait, most people decide to keep caulerpa only in their refugium. It can be added to your display only with caution as it can choke out corals if not kept under control. Also, like many members of its genus, it may release noxious compounds into the water under certain circumstances.