One of the most fascinating parts of this hobby is the colossal variety of creatures that will take up residence in the reef tank. This outrageous biodiversity truly is magical! Algae, microbes, and tiny crustaceans are just a few of the lifeforms we get to know in the reef tank. And it is safe to assume they all play a significant part in keeping reef tank healthy and thriving. There are plenty of pods available to choose from, but which one is the best copepod for the reef tank?
Copepods are one of these tiniest creatures that play one of the most crucial roles in the reef tank. Pods are a family of small scavengers that can be found in all bodies of water. These tiny crustaceans live all over! From the smallest freshwater pond to the largest ocean – pods live everywhere! There are thousands of species that have been identified.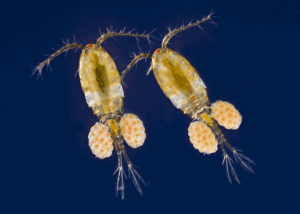 Copepods devour organic waste compounds and are a fantastic food source for fish. Many reef keepers will insist that keeping a solid pod population is what makes a reef tank system thrive. Live pods are crucial for getting timid fish like mandarin gobies to eat. Copepods typically get introduced into the reef tank as hitchhikers. However, sometimes the population just needs a quick boost. And sometimes the copepod population could use a little extra biodiversity.
This is where EcoPods comes in! Many reef keepers consider EcoPods to be the best pods in the hobby. To create EcoPods, we selected four of the hardiest and healthiest copepod species. We also chose these pods for their sustainability. These pods will adjust perfectly to life in the reef tank! In this article, we will discuss a few of the reasons why EcoPods is the best live copepod blend for the reef tank.
How many copepods do I need?
The number of copepods needed to seed a reef tank will depend on the size of the tank. Truthfully, there is no set calculation or formula to determine an exact measurement. Every reef tank is unique. However, we do have guidelines based on the tank size. A good rule of thumb is to add one 16-ounce jar of copepods for every 50 gallons of water. Please keep in mind that this is a conservative estimate. For reef tank systems with large and mature refugium's, that guideline can probably be adjusted to allow for a few more copepods. Fortunately, it is virtually impossible to overdose a reef tank system with live pods.
How fast do copepods reproduce?
Copepods reproduce very quickly. Almost all copepods reproduce sexually. The male copepod will locate a female copepod…and the rest is history! Their entire life cycle is only around a few weeks to one month long. But in this brief period, a female copepod will lay about forty eggs per cycle. The fertilized eggs will incubate the primary phase of the copepod life cycle.
Quite honestly, the rates in which copepods reproduce is entirely determined by the reef tank system. Factors such as refugium status, fish population, and water quality will all have a major impact on copepod life cycles. For instance, how dense is the macroalgae planted in the refugium? If there is a sparse amount of chaeto, then the pods may not be able to reproduce as quickly. The goal is to have an ecosystem that closely resembles nature. This is where the pods will proliferate like crazy! They love porous rocks of various density. We have also seen great results with manufactured media like MarinePure Ceramic Biofilter.
Another factor that affects copepod reproduction is the number of reef fish and the type of reef fish in the system. Larger fish may overlook tiny pods in favor of the bigger amphipods. However,

fish such as mandarin gobies will decimate a pod population rather quickly. To balance this, it is suggested to avoid adding fish to the refugium. In fact, it is best to keep all fish and inverts out of the refugium.
The water quality will also contribute to pod reproduction. It is advisable to wait until a new reef system has completely cycled before seeding it with pods. This is because even the smallest amount of ammonia and nitrite can be toxic to these tiny creatures. On the other end of the spectrum, water can be too clean for pods.
Heavy duty filtration like skimmers, mechanical filters and UV sterilizers can actually starve pods. In addition to water stability, they also need to have access to fresh microalgae. Copepods prefer to eat phytoplankton and diatoms. We highly encourage a daily dosage of OceanMagik live phyto to ensure the pods are getting enough to eat.
The most effective method to increase the pod population is to provide a healthy seed stock. We do suggest adding 16 ounces of pods for every 50 gallons of water but that is a conservative estimate. Add as many pods as your budget will allow. Also replenish the population every few weeks until you see good results. A great deal of reef keepers will prefer to keep an exceptionally clean reef tank system, but this can lower the pod numbers. Natural filtration methods will help to keep the tank clean and the pod numbers healthy.
Can you add too many copepods?
            This is one of the easiest questions to answer. No, you can never have too many pods! Reef tank systems that have a healthy density of fish will keep the numbers in check without issue. Should the pod population exceed the demands of the system, they will begin to drop in number. There is really no need to interfere, nature will handle it without any help from the reef keeper.
Pods have two principal jobs in the reef tank: first, they help to reduce nuisance film alga. And two: they are on the dinner menu for most reef tank residents. The benefit of pods can be observed through the health and vitality of the fish, inverts, and coral. One of the most fascinating aspects of these little creatures is that they monitor themselves perfectly once their needs are met.
Why are EcoPods the best copepods?
EcoPods is a blend of four copepod species: Apocyclops, Oithona, Tigriopus, and Tisbe. Each one of these species brings something special to the tank. Tisbe and Tig pods are both known for being a great food source for picky eaters like mandarin gobies. They settle into the rockwork in the mature phases of their life cycles. This is a match made in heaven for fish like mandarins.
Oithona pods can occupy nearshore water or estuaries with high salinity. Oithona are for the most part known to be a planktonic, free-floating species that favors shallower water. They are very small making them the perfect size for many NPS and filter feeders. The Apocyclops species of pods can be found in warm, tropical waters. Apocyclops are one of the species that is planktonic in its larval stages and benthic in mature phases. They are also known to reproduce in roughly the first week of their life cycle.
Conclusion
We hope that this article has been helpful in explaining a few of the reasons why pods are so important in the reef tank. For the reef keeper who is just starting out, AlgaeBarn has everything needed to build a pod producing fuge! And we're also here for the hobbyist who is looking to improve the overall health of the system by boosting with EcoPods.