Ahhh, clownfish… They're not just another cool fish; they're the very reason many of us became marine aquarists in the first place. Even before the release of that animated movie featuring a now-famous clownfish, pretty much everyone–even if they never set up a fish tank–already knew what a clownfish is. These animals' distinctive appearance and curious habit of hanging out within the stinging tentacles of sea anemones has made them instantly recognizable icons of everything reefy.
As cool as those ubiquitous percula and ocellaris clowns are, and even with so many novel color morphs in which they are available, they can get a little boring for the advanced aquarist. Oh, to be clear, yes, they're absolutely gorgeous and unique and indeed endearing. Starting out, these species (alright, or maybe one of the designer maroons) were probably at the top of your fish wish list. And those bigger, beefier, and arguably less exotic-looking clownfishes like the cinnamons, tomatoes, etc.? Maybe not so much. But yeah… eventually, as you've kept many percs and o's, and maybe after your tastes change a little bit, some of those other clown species might start to look pretty awesome. For sure, the blue stripe anemonefish (Amphiprion chrysopterus) is one such under-appreciated species.
For one reason or another, blue stripes (also known as orangefin anemonefish) appear to be a bit trickier to breed and rear in captivity. As a consequence, it took a little longer for the species to appear in the aquarium fish trade regularly and abundantly available as "captive-bred." But now they're here, and these magnificent farmed specimens provide yet more reason to consider them for your next reef tank. This article takes a quick look at the blue stripe clownfish and describes it captive care.
Blue stripe anemonefish natural history
A. chrysopterus occurs in the Western Pacific north of the Great Barrier Reef from Queensland, Australia, and New Guinea to the Marshall Islands. It prefers reefs and reef-associated habitats, inhabiting very shallow waters down to around 60 feet depth. 
A. chrysopterus has a rounded body and small head. It typically reaches around 17 centimeters in length. It has a yellow-brown to dark brown base color that lightens to yellow around the body outline. Its fins are yellowish or orangish. It gets its name, of course, from two broad, white vertical stripes (one behind the eye and another in front of the anus); the white is covered with an icy blue in adults. Juveniles have a base color that is more muted.
There are a number of geographic variants within this species. Depending on the area of origin, they may have differently colored tails (examples from Fiji and Tonga have yellow tails, whereas examples from the Marshall and Solomon Islands have white tails). 
clowns in captivity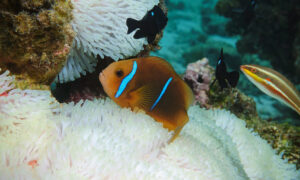 The bluestripe anemonefish has a poor record of captive survivability (at least compared to other clownfish), as it does not ship well and is highly susceptible to ectoparasites such as Brooklynella. With wild-caught specimens being so notoriously finicky, farmed bluestripe alternatives from Biota are quite exciting. These juveniles lack the bluish sheen on the stripes; their base coloration is a rich, warm, light brown. The appearance of the juvenile form gets different reactions from different hobbyists. Even some of the biggest fans of the species jokingly admit that it is among the least impressive clownfish as a youngster. But, unlike many saltwater fish species which grow dull with age, this species actually gets more and more beautiful as it matures, especially as it "gets its blue".
The blue stripe clownfish will accept almost any meaty food item. As with most fish, a variety of foods is best. Foods that are rich in carotenoid pigments such as astaxanthin help to maintain a clownfish's bright orange, yellow and red colors.
This is one of the largest of the anemonefishes and should be treated as such. When you consider the size of the average territory of this animal in the wild, few home aquarists will come even close to affording it with the space it really needs. A pair plus an anemone will require even more, particularly if other fish are present (it can be aggressive towards tankmates that approach its territory). Therefore, while some claim a 55-gallon tank is large enough to comfortably house it, something like a minimum of 120 gallons is much more advisable. This might seem like overkill, but here is a fish that truly suffers from crowding stress. Even in some hatcheries where other clownfish broodstock are crammed into into small aquaria with a flower pot, this species is afforded much more space and indeed much more lavish accommodations. Think of it as the diva among clownfishes.
Though the blue stripe anemonefish is somewhat more sensitive–and demanding–than its cousins, it is well worth the extra effort. Especially for hobbyists who have had many other clowns and are really ready for something decidedly different! With these farmed (and much studier) specimens from Biota, there's never been a better time to try this highly underrated species!