The Caribbean Chalk Bass is one of the smallest bass in their family and is often overlooked in the reef keeping hobby. The orange-colored body has a purple midsection. These fish are beautifully enhanced by electric blue vertical bands. The Chalk Basslets are hardy fish that are perfectly suited for reef tank life and are sustainably bred by our friends at ORA.
In this post, we're going to discuss the Chalk Bass and why we think it deserves more attention and are the perfect candidate for life in the reef tank!
Fast Facts
ORA Chalk Bass (Serranus tortugarum)
Size at Maturity: 3-4 inches
Minimum Tank Size: 30 Gallons
Reef Safe? Yes
Care Level: Easy
Preferred Diet: Omnivore
Temperament: Semi-aggressive
The ORA Chalk Bass has a barrel-shaped elongate body and a pointed snout. The dorsal fin bears 10 spines and 12 soft rays; anal fin has 3 spines and 7 soft rays with a shortened tail fin. The Chalk Bass can change its color and pattern to conceal itself in its environment. The head and body are pale blue grey to pinkish brown with 8 short, blue-grey lines on the upper body. The Chalk Bass' fins are translucent to pink in color and have a row of 2-3 pale spots.
The Chalk Bass, or Basslet, are great for a smaller reef tank due to their small size. They will conceal themselves in reef crevices and abandoned shells when threatened by predators. Along the reef, these fish school together and scout for fast escapes.
Chalk Bass are found throughout the Caribbean in the tropical waters of the western Atlantic. The distribution ranges from the east coast of Florida to the Bahamas and the Virgin Islands. However, the largest populations of chalk bass are found in the reefs of the Caribbean. Chalk Bass will inhabit coral reefs at depths ranging from 30-400 feet.
Even though they can be found on their own, Chalk Bass usually live in loose groups or schools with a clear pecking order. These fish are synchronously hermaphroditic, which means that it has both male and female reproductive organs at the same time. However, as far as we know, it is not able to fertilize itself.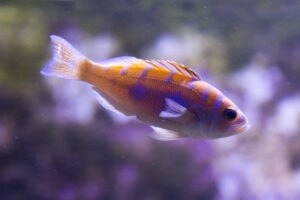 Behavior in captivity
It's normal for S. tortugarum to be shy when they are first introduced into the reef tank. In fact, most fish will immediately take to the rock work to hide. To minimize stress, follow our acclimation guide closely. Once the Chalk Bass have adjusted to their new home, they can be coaxed out into the open by making the lighting dim and giving them live NanoBrine, which they will devour!
Like many smaller fishes, Chalk Basses can also be skittish during the acclimation phase. It could take a bit of time for them to get used to their new environment. If they are the first fish to be introduced their stress will be minimal. However, it is still advised to secure the jump net to prevent any jumpers.
In general, Chalk Basses and other species in the genus Serranus are great additions to Atlantic biotope displays. Since they aren't very big, they are perfect for smaller systems or even nano reefs if you only want to keep one. If you want to keep them together, give each one 15 to 20 gallons.
Chalk Basslets differ not only in color but also in behavior on the coral reef. Occasionally, a single fish will emerge from its hiding place. However, schools of Chalk Bass are more frequently seen moving from one location to another. Within the school, they have established their own hierarchy, with the dominant swimmers leading the procession and directing the school on where to swim next. You can obviously get away with keeping one chalk bass for this reason. However, the fish are likely to remain timid and anxious. This is exacerbated if these fish are housed in a communal tank. Chalk Basslets are social creatures that thrive in schools.
To avoid difficulties with hostility, it is necessary to introduce the entire school at the same time. When the school is introduced simultaneously, they will form and utilize the same territory, establishing a hierarchy without much conflict. However, attempts to bring new Chalk Basslets to a school are typically met with hostility. There is no place for a new fish in an established school. They end up as a "stray." When this behavior occurs in schooling fish, the dominant fish will harass the stray to the point of starvation.
For Chalk Basses to thrive, they must have a selection of shelters. This is preferably live rock and large, discarded shells. Provide additional hiding spots where rock meets the substrate. Conch shells and reef rubble help simulate the natural environment encountered by wild Chalk Bass in coral reefs of the Atlantic region. This will also encourage natural behaviors and coax them to swim along the bottom of the reef scape.
Are Chalk Basses Reef Safe?
While we cannot guarantee any fish to be truly reef safe, the Chalk Bass should not nip at or harass coral. They're omnivores and will graze around corals in search of food. However, they should not bother or harm polyps in the process.
However, they can be territorial and somewhat aggressive with other fish. This is especially tru for those of the Serranus genus. Beyond that, Chalk Bass can live with a wide range of other fish. Of course, this excludes larger, more predatory fish, like lionfish and triggerfish. Chalk Basses are safe around inverts and larger crustaceans, but adults may try to eat smaller shrimp.
Diet and Nutrition
A Chalk Bass is content to eat a variety of prepared foods. Because they primarily consume zooplankton in nature, they will consume the live microfauna that is already present in most reef tanks with live rock and a refugium. These fish are not difficult or picky eaters.
The most serious nutrition issue with the Chalk Basslet's diet is overfeeding. These fish have no idea when to stop eating! They will continue to pick at food if it is available. And for the reef tank system that is mature with an established refugium, there should be a constant supply of food. So, if that is the case the reef keeper can dial down the amount of food introduced and look at a supplemental feeding regimen.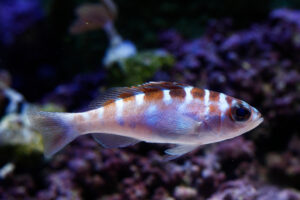 Conclusion
It is rare to find the perfect combination of captive-bred, vibrant colors and affordable fish in the reef keeping hobby. But this is just one of the reasons why ORA's Chalk Bass is one of our favorite reef fish!
The Chalk Bass are great fish for any sized reef tank but especially for smaller reef tank due to their small size. Chalk Basslets are social creatures that thrive in schools. Along the reef, these fish school together and cruise benthic regions. Since they aren't very big, they are perfect for smaller systems or even nano reefs.
When fish are raised in captivity, they have so many advantages over wild-caught specimens. Most importantly, these fish are more disease resistant and have less exposure to pests and pathogens. They are better suited to life in a reef tank because they can withstand the stress of shipping and acclimating to a new reef tank system. By choosing fish like ORA's Chalk Bass, you help to support marine livestock aquaculture and the long-term viability of our hobby.
Do you have experience keeping the Chalk Bass or other schooling fish in the reef tank? Drop a comment below and let us know what you think!