So, you've set up your first tank and it finally finished cycling and you're just starting to stock it with fish and invertebrates. What now? Well, now it's time to learn how to perform solid aquarium maintenance and see what your weekly ritual is going to consist of. The scariest thing for beginners isn't always the initial set up; a lot of the time stress builds up when it's time to complete that very first water change.
The Big Picture in Aquarium Maintenance
Before we get into maintenance, I'm going to give a few tips on how to prevent your tank from becoming unsightly and covered in debris and algae:
Do not overfeed. Fish are very opportunistic and will always swim to the front of the tank "begging" for food. Even if you just fed them an hour ago they will still do it. Once-a-day feeding is plenty for most saltwater fish. It is crucial for your aquarium's health to only feed what the fish can consume in 30 seconds. Overfeeding can lead to bloat and excess waste that can feed algae in your aquarium and it can even pile up and rot on the substrate.
Do not get lazy with aquarium maintenance. When your tank is brand-new it is vital to keep up with biweekly maintenance to keep your parameters stable. Even if it's reached that two week mark and your tank still appears spotless, you still need to complete a water change. Water changes help eliminate excess nitrates and will also replenish the trace elements that are needed for your corals to grow.
Do not overdo maintenance.  If there's an issue occurring in your tank such as an algae bloom, the worst thing you can do is to completely clean out your tank. I've seen plenty of customers panic and decide to complete a huge water change every other day which in return caused a disturbance in their tank. Always find the source of your problem in your tank before reacting. Cleaning your aquarium out too much can cause issues because you will disrupt your beneficial bacteria that are living in your substrate, filter, and rocks. Overreacting can be just as bad as underreacting!
Scrubbing Up
The first thing to do during aquarium maintenance is to shut off all of the pumps to the aquarium.  This is so you can allow all the debris to settle to the bottom and to prevent your pump from sucking up air (which can damage it). You will want to turn off wave makers as well. 
Now it is time to clean any algae off the glass or rocks. You can either use a scraper blade, a sponge or a tooth brush. Using a tooth brush is great for detailing cleaning spots that can't be cleaned off by the scraper blade (if there is a patch of algae on your rocks, the tooth brush is the way to go!).
Once you have done this, you can begin pulling water from the aquarium. It is recommended only to pull 20-25% of the water volume per water change. This allows you to be able to pull all of the excess waste in the aquarium without cleaning too much which can disrupt the chemical and biological balance. You will want to siphon all accumulated debris in the sand and within the rock structure. Sometimes it is better to actually sift around the rocks when you first turn the pumps off to allow built up debris to sink to the bottom, making it easier to siphon out of the tank.
After you've pulled your water it's time to clean your filter. You never want to rinse your filter pads out with tap water. Instead, rinse and squeeze them out in the water you just pulled from the aquarium. This prevents the loss of beneficial bacteria that are living in your filter media.  
Next, change out any carbon or disposable filtration and replace it. Once this is done, you may check your filtration system or sump for built up debris. Detritus is notorious for building up in filters. If possible, siphon out as much as the debris from your filter so it doesn't end up causing a nitrate spike in the tank.
Back Together Again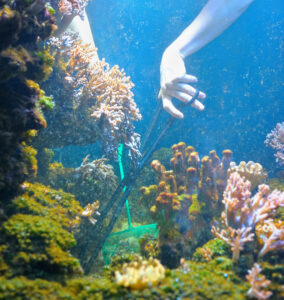 Now that you've cleaned out all the excess debris and algae in the aquarium, it's time to start filling the tank back up. Always double check the salinity of your new saltwater to ensure that it is within .01-.02 of the salinity in your tank. With a larger aquarium, you can get away with it being .02 of a difference due to the large water volume. Also, ensure that the water temperature is correct; if you place water in the aquarium that is much cooler or much warmer that can shock your livestock.  
After you've added the new water to the tank, you can turn all of your pumps and wave makers back on. Any debris that was left in the tank is going to stir up and likely end up in your filter. It is crucial to make sure that you don't have any dead spots in the aquarium. Dead spots are created when there is no flow hitting the area. This is likely to occur in the back of the tank or in the caves. Dead spots are the place where the debris like to build up. Adjusting your flow and removing the dead spot can make your next maintenance even easier.
Aquarium Maintenance isn't that hard, it just requires consistency. Staying on top of maintenance will make your life much easier and it will help keep your livestock happy and thriving!