More About
Lined Seahorse (Hippocampus erectus)
Seahorses are beautiful and fascinating fishes; in this regard, the lined seahorse is no exception. One of the easiest of its kind to keep in captivity, the species has for long been popular with seahorse enthusiasts. Captive-bred specimens are available and are even more easily maintained in aquaria. That notwithstanding, seahorses are rather specialized creatures and should be housed in a
species tank
. See below for more information.
LINED SEAHORSE SIZE AND CARE REQUIREMENTS
Purchase Size: ~2" (height) Max Size: approximately 7″ (height) Water Parameters:~75° F, dKH 8-12, pH 7.8-8.4, sg 1.020-1.023 Color: Highly variable Reef-Safe: Yes (this animal is best kept in a species tank) Feeding: Mysis, brine shrimp, copepods (preferably live)
LINED SEAHORSE SPECIES INFORMATION
The lined (or northern) seahorse (
Hippocampus erectus
) is distributed across the U.S. Atlantic Coast and Gulf of Mexico but may be encountered as far north as Nova Scotia or as far south as Brazil. Lined seahorses inhabit different water depths during different seasons (shallow waters in the summer and deeper waters (up to 73 meters) during the winter. Weak swimmers, lined seahorses prefer calm, sheltered waters such as bays. They are capable of swimming in midwaters, but spend a great of time holding onto gorgonians or seagrass blades with their prehensile tails.
BENEFITS OF AQUACULTURED LINED SEAHORSES
Aquacultured
 lined seahorses offer a huge advantage over wild-caught specimens. For example, if bred and raised under captive conditions, they are better adapted to aquarium life. They are also less likely to carry disease. Even more, aquacultured specimens can better tolerate shipping stress. Most significantly, by purchasing captive-bred livestock you support the aquaculture of marine organisms and help to make our hobby more sustainable!
100% ALIVE ON ARRIVAL (AOA) GUARANTEE FOR AQUACULTURED LINED SEAHORSES
We guarantee that every lined seahorse we sell will be Alive On Arrival and in good health. Should it arrive in any other state, we will either replace it free of charge (including shipping) or issue store credit if the total livestock loss is less than $40. For more information, please also visit our
100% Alive On Arrival Guarantee
page.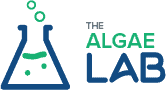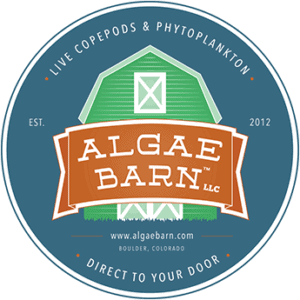 Our Guarantee
We take the worry out of buying Live Copepods, Phytoplankton, Inverts, and Captive Bred Fish online by going above and beyond to take care of our customers. That's why we guarantee every order we ship will be 100% Alive On Arrival or we will replace it free of charge. Booya. We'll even cover the shipping on the replacement no matter which service you choose. Double Booya.
About our policy: When your order arrives, be sure and inspect the contents to ensure everything is looking alive and well before you add them to your tank or put them in the fridge. We'll give you 12 hours after delivery to make sure you are completely satisfied.
"We will take care of you and make it right"
If for any reason you decide something isn't quite ultra grade, simply snap a photo of the unopened item(s) you would like replaced. Be sure to get the expiration date on the back label in the photo. After that, visit www.algaebarn.com/claims and submit the form. We'll review the photo and have a replacement out to you faster than a six-line wrasse at feeding time.
Captive Bred Fish: We guarantee every Live Fish we ship to be 100% Alive On Arrival and we also offer a 7-day health guarantee on all Live Captive Bred Fish. In the event that your fish arrives DOA (Dead On Arrival), simply take a photo of the fish in the unopened bag/jar within 2 hours after delivery and visit www.algaebarn.com/claims to submit the form. If the fish is DOA, we will offer you a choice of either a full refund or a free replacement, including the shipping cost. If the fish expires from natural causes (this does not include being killed by tank mates, jumping out of the aquarium, being acclimated to the wrong environment, not being fed the recommended foods) within 7 days after delivery, just provide a picture of the expired fish and we will offer you a free replacement, however, you must pay for shipping, or a refund, less the shipping cost. We can offer this industry leading guarantee on all of our live fish because Captive Bred fish are generally healthier and hardier than their wild-caught counterparts!
Invertebrates: We guarantee every invertebrate (Invert) we ship to be 100% Alive On Arrival. In the event that your inverts arrive DOA, simply take photos of the DOA items within 2 hours of delivery and visit www.algaebarn.com/claims to submit the form. We will review the photos and issue store credit for any DOA Inverts!
Once your replacement order is processed, we'll send you a brand new tracking number automatically. Thats it, pretty simple right?
So start giving your tank the love it deserves and order with confidence knowing that AlgaeBarn has your back.