Today is Nonprofit Day and we are celebrating one of our favorite nonprofits, ARC Reef! As part of our mission to improve sustainability in the reef keeping hobby, we are honored to team up with other companies that share our vision. In this article, we are highlighting ARC Reef and all the work they do to save natural coral reefs. So, let's dive right in!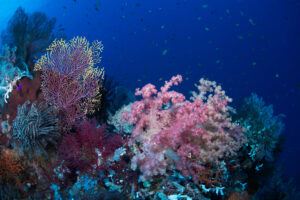 ARC Reef is a Florida research laboratory and aquaculture facility. Their research facility can identify and study many of the coral illnesses which are affecting reefs in the Atlantic Ocean. But what they are most well-known for in the reef keeping hobby is their product, Coralline Algae in a Bottle.
ARC Reef specializes in the culture of nearly 70 different coralline algae species. They work to gain a greater understanding of the coral reef ecosystem. ARC Reef is a team of marine scientists and researchers who are all committed to restoring natural coral reefs.
ARC Reef's focus is to develop creative and sustainable artificial reefs. Their artificial reef programs are utilized in the southeastern United States, the Bahamas, and Puerto Rico. They are also playing a crucial role in coral reef recovery.
ARC Reef's coralline seeding program has shown to be effective in aiding corals to settle onto reefs. This process has been successful in natural and artificial coral reef recovery efforts. Coralline algae spores speed up the growth processes of coral while reducing the growth of nuisance algae.
ARC Reef works on reef restoration projects and prioritizes educating the public. We are very passionate about the need for reef conservation and education. This is just one of the reasons why we support the work of ARC Reef. This organization truly is spearheading efforts in collaboration with government agencies.
Sadly, our reefs are rapidly deteriorating, and we are committed to reversing the devastation. The Florida Reef Tract is the world's third-largest barrier reef. Unfortunately, the Florida Reef Tract has lost nearly 80% of its corals. As reef keepers, we want to know how to help conserve coral reefs and ARC Reef makes it very easy to do our part. Every purchase of Live Rock and Coralline Algae products contributes to reef restoration. 20% of all purchase's aids in these efforts.
Long-term aquaculture efforts
ARC Reef has pledged to use the proceeds from their products to improve natural coral reefs. They have already successfully planted upwords of 90,000 square feet of coral reefs to date. Their goal is to quadruple that figure as time passes. In time, ARC Reef's efforts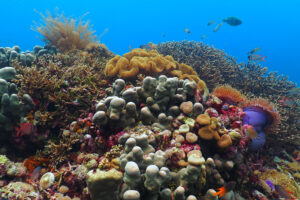 will allow the restoration of some of the most endangered coral on the reefs. Acropora species like Elkhorn (A. palmata) and Staghorn (A. cervicornis) have declined as much as 95%. Sadly, the Pillar Coral (D. cylindrus) has been upgraded to threatened status by the state of Florida and federal agencies.
ARC Reef's Resources
ARC Reef maintains about 10,000 gallons for saltwater aquaculture. Their tanks are outfitted with cutting-edge technology. Water parameters are monitored around the clock. The goal is that all levels match the seawater where the artificial reef is located. ARC Reef even goes above and beyond to monitor the water parameters of their reef restoration sites.
Water samples are collected by ARC Reef at select sites relevant to the location of reefs. The samples are then evaluated, and the results are shared with partnering organizations. This testing is critical in understanding the health of the coral reef. Organizations all over the world monitor and share water parameters of coral reefs in good health and those struggling as well.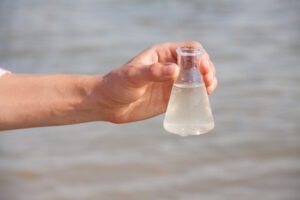 As reef keepers, we all know there is no perfect substitute for the sun. However, ARC Reef has designed a lighting system that gets pretty close! They use a lighting system that moves, pans, and tilts. This unique system produces full-spectrum light to each section of the tanks. This allows corals to receive light while reducing nuisance algae.
ARC Reef also produces aquacultured live rock. The live rock is kept submerged while it is transported. This process keeps the flora and fauna alive and avoids the need for post-collection cycling. They are constantly looking for new technologies that may improve the growth and health of live rock and corals. And there is no gatekeeping at ARC Reef! Any information that might be of use to others gets published on their website.
Heart Reef Miami
Heart Reef is a coral reef that ARC Reef built in 2015. This structure covers 43,560 square feet of ocean floor. Its location is offshore from the Government Cut inlet to the Miami Beach harbor. Passengers flying into Miami International Airport can get a bird's eye view of Heart Reef.
Heart Reef is a living coral reef composed of hundreds of coral species, inverts, and sponges. This coral reef also serves as a habitat and nursery to a variety of ocean critters. In 2012, the project began with water testing and data collection. When the samples were compared to previous years, it revealed that this area of the Florida Reef Tract needed help. The biodiversity offshore of Miami was declining in record numbers.
ARC Reef's restoration project includes propagating native coral species onto the reef. This includes a glorious variety of pillar coral. Pillar coral was once plentiful in the area but is now rare to see. The goal is to convert a barren strip of the Florida Reef Tract into a thriving coral reef.
There are many organizations that would like to participate in this project, but current legislation makes it very difficult. The ARC Reef facility is hard at work to selectively propagate some of the toughest corals on earth. In theory, this will allow them to be more tolerant of environmental stressors such as ocean acidification.
In their lab, ARC Reef is cultivating SPS corals that thrive at a pH of 7.8. Although this is not easy, the rewards are worth it. Future generations of coral colonies will be hardier and better acclimated to acidic conditions and temperature fluctuations.
Live rock aquaculture @ ARC Reef
Live rock harvesting is harming coral reefs all over the world. Florida coral reefs are a finite resource that are severely in need of help. Once we lose these reefs, they are gone for good. Coral reefs are home to one out of every four species in the ocean. Wild live rock harvest is a very destructive practice. This process involves breaking off coral reefs into smaller pieces. Many collectors will use crowbars or explosives. They are then taken and dried on the beach or in a shipping facility.
Any corals attached to the rocks are then removed. The US Fish and Wildlife Service will seize any coral on imported live rock. The live rock is typically sent in cargo containers by boat. It can take anywhere between 30-60 days to arrive at the port and clear customs. Then, it can be shipped to wholesale distributors, and eventually retailers before making it to the reef tank.
After this journey, nearly all life on these rocks has died. Practically the only living organisms left are just bacteria. The curing process takes several weeks to remove these now-dead organisms. As these organisms die off, they release harmful waste compounds such as ammonia and nitrite. Curing the live rock is vital as uncured live rock can crash a reef tank.
Coral reefs in developing countries of the Indo-Pacific region show the most promise. This is due to the high diversity and overall health of the coral reef. A healthy organism can fend off attack against predators and pathogens by chemical defenses. As live rock is harvested from these reefs, entire species are disappearing at alarming rates.
Conclusion
AlgaeBarn is proud to partner with organizations that share our mission to promote a sustainable hobby. We are honored to support ARC Reef in their work to eliminate wild coral reef harvest. Their team is constantly working to develop new methods for reef restoration. This is just a few of the reasons why we are happy to celebrate all the work they do!
And 20% of every purchase of ARC Reef products helps to restore reefs. This means that we can all do our part to help restore the Florida Reef Tract and the corals of the Caribbean.